---
THE RADAR SITE:
RADAR INFORMATION:
Overview
News and Events
RADAR MEMBERS
RADAR Home Page
---
RADAR RESOURCES:
RADAR ON-LINE DATA:
On-Line Decay Data
On-Line Kinetic Data
On-Line Model Dose Factors
INTERNAL SOURCES:
Occupational Dose Factors
Nuclear Medicine:
Diagnosis
Therapy
EXTERNAL SOURCES:
Monte Carlo Applications
External Point Source
Beta Dose to Skin
Immersion in Air
Ground Contamination
Medical Sources
VARSKIN code
RADAR SOFTWARE
DOSE-RELATED LITERATURE
MEDICAL PROCEDURE DOSE CALCULATOR AND RISK LANGUAGE GENERATOR
---
RADAR DOCUMENTS:
System Overview
Internal Dose System
External Dose System
Decay Data
Kinetic Data
Phantoms
Risk Models
---
External Dose Assessment

---


Here are a couple of nice pages from the International Atomic Energy Agency about radiation-induced erythema:
Some Charged Particle Ranges

An approximate general formula for the range of alpha particles in air is:

Rair = 0.56 E ......................... for E < 4 MeV
Rair = 1.24 E - 2.62 ................ for 4 < E < 8 MeV
Rair is in cm

In other media, the range in the media (Rm, in units of mg/cm2) is given as:

Rm = 0.56 A1/3 Rair is in mg/cm2

where A is the atomic mass number of the absorber.

An approximate formula for beta particle range in low Z materials as a function of beta energy is given as:

R = 412 E1.265 - 0.0954 lnE ................ for 0.01 < E < 2.5 MeV
R = 530E – 106 ............................... for E > 2.5 MeV

The range is expressed in units of mg/cm2. This expression is a bit cumbersome to calculate by hand, so naturally we at RADAR have made a useful tool to help you out. Just enter an energy value for the cell in this handy-dandy spreadsheet (in the correct energy region), and the approximate range is given. Approximate values can also be read off the supplied graph.


For dosimetry, we cover here several cases of interest to external dose assessment:

Monte Carlo Approaches

1. Dosimetry for standard external beam sources for radiation protection

Six standard irradiation geometries (AP, PA, LLAT, RLAT, ROT and ISO) of external beams are always considered to derive the so-called fluence-to-absorbed-dose conversion coefficients for various radio-sensitive organs involving photons, neutrons, electrons and protons. These organ dose data are often used to calculate a radiation protection quantity called "effective dose equivalent" or, more recently, "effective dose," that is not measurable, but may be calculated once the incident fluences of the particles are known. Some of the conversion coefficients are based on air kerma. The most recent data of conversion coefficients are those reported by a joint report by the International Commission on Radiological Protection and International Commission on Radiation Units and Measurements using the stylized MIRD computational phantoms [1, 2]. Since then, a number of voxelized computational phantoms have been used by groups worldwide to derive new data for the same external irradiation geometries. For papers related to the VIP-Man phantom at RPI, please visit http://RRMDG.rpi.edu

2. Dosimetry for point gamma sources away or in contact with the skin

2.1 Point gamma sources away from the skin

Xu and his co-workers were one of the first to report effective dose equivalent (EDE) data for external point gamma sources of 0.3, 1.0, and 1.5 MeV that are located at about 10 cm from the surface of the body [3]. The purpose of their study was to demonstrate that, even when external gamma sources are near the body, the use of the so-called "two dosimetry algorithm" would provide a conservative estimate of the EDE for protection against nuclear plant workers.

2.2 Point gamma source in contact with the skin

Although beta particles on the skin were the main concern for skin dose in the past, a need for assessing whole-body EDE from the gamma-emitting "hot particles" was recognized recently [4, 5, 6]. The concern is that such gamma sources attached to the skin or protective clothing, may cause an very high EDE and that the personnel dosimeters may not respond enough for cases when the source is too close to radiosensitive organs. Using a simple model of the skin, Shi and Xu studied the depth profile of such gamma-emitting hot particles (see Fig. 1 and Fig. 2) [5].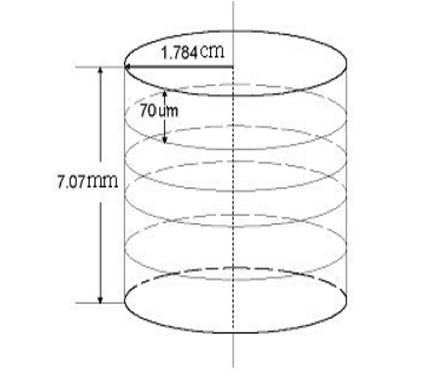 Fig. 1. Skin simulation phantom in MCNPX (not drawn to scale)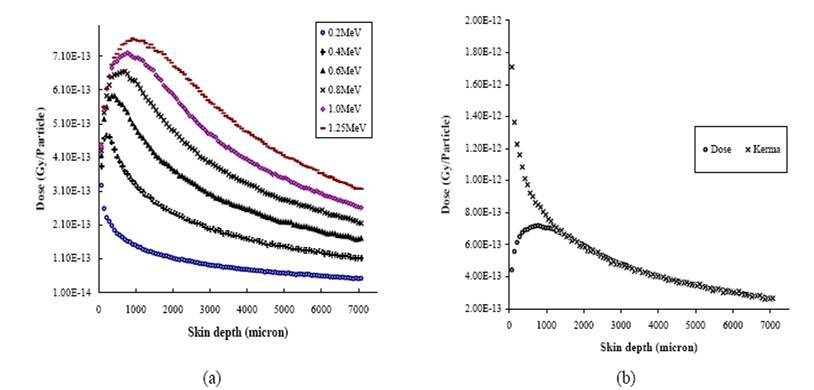 Fig. 2. (a) Skin dose depth profiles for different gamma energies; (b) Absorbed dose and collision kerma depth profile for a 1.0 MeV gamma source.



They calculated and plotted the skin dose depth profiles and skin dose rate depth profiles for a range of point gamma sources using the MCNP4C code. The secondary charged particle range in skin for 1.0 MeV is determined to be 1.47±0.07 mm. These data allow skin exposure from gamma sources to be better understood.

Supported by The Electric Power Research Institute, Xu reported a set of whole-body effective dose equivalent (EDE) and effective dose (ED) data for point sources with photon energies between 0.1 MeV to 2.0 MeV, for 74 locations covering the entire body surface [6]. The two-dosimeter algorithms were also considered. The MCNP code and the MIRD-type stylized phantoms were used to maintain consistence with NRC approved data in the past. Tabulated data show that the sources located near the upper chest and the lower waist have the highest EDE and ED [6], while sources near the top of head and feet yielded the smallest. The calculated Deep Dose Equivalent (DDE) values are much higher than the EDE values, suggesting that the use DDE could result in overly conservative estimate for the EDE and ED. For an exposure of 75 µCi h-1 to a 60Co source located at the center upper chest area, the EDE is 36.5 µSv (3.65 mrem), which is a factor of 240 smaller than the corresponding DDE. EDE and ED data are tabulated for quick reference by users in nuclear power plants.

Xu et al later released the EPRI EDE Calculator - software for automatically assessing effective dose equivalent from gamma-emitting hot particles on the skin [7]. This software can be used in a way similar to the skin dose calculations for beta-emitting hot particle using the VARSKIN code by Durham [8, 9]. The type, gamma energy and activity of a hot particle can be determined by gamma spectroscopy. Once the gamma energy and activity are determined and the exposure time and location are estimated, the normalized data presented here can be multiplied to obtain the EDE or ED. For particles other than 60Co and 137Cs, interpolations on the tabulated data are necessary. When the hot particle location is uncertain, a user is recommended to assume a location zone of the highest readings. In this study [6], no protective clothing was considered because the gamma rays considered in this study are energetic enough to penetrate these materials. Clothing may also change the point source location off the skin, but the impact on EDE and ED results would be negligible. Similarly, the finite size of the particle and the self-attenuation are ignored in the calculations.

4. Dosimetry of Cone Beam CT (CBCT) and diagnostic CT exposures

One of the most important medical exposures involves the x-ray CT scans, including kV Cone Beam CT or MV Cone Beam CT, and diagnostic CT. The main differences between CBCT and diagnostic CT are the beam shape and scan protocol. Using the developed patients phantoms and models of the CBCT and diagnostic CT scanners, organ doses of these patients can be assessed at RPI [10, 11].

4.1 Modeling of CBCT

Parameters available in the literature and provided by the manufacturers for kV CBCT and MV CBCT were considered as the basis for modeling these modalities [10]. For kV CBCT imaging simulations, an open field of 17×25 cm2 with a 29.8×39.7 cm2 amorphous silicon flat-panel detector was considered. For MV CBCT imaging simulations, an open field of 27.4×27.4 cm2 with a 41×41 cm2 detector was considered. The generalized x-ray source model samples a previously calculated kV CBCT energy spectrum and MV CBCT energy spectrum as a point source that uniformly emits x-ray within a 15o cone. The bow-tie filter is neglected in x-ray source modeling, since not every CBCT system includes the bow-tie filter and the detailed design information is not provided by the manufacturer. This may result in slight overestimate of the skin dose due to low-energy photons but the effect on the effective dose is very small. For this study, the photon energy spectrum in the kV CBCT model is assumed to be 125 kVp, tungsten anode of 148 angle and 4 mm aluminium filtration, according to information from the manufacturer. The photon energy spectrum for the MV CBCT represented a 6-MV beam and was determined below the flattening filter, obtained from Monte Carlo simulations. For kV and MV CBCT source modeling, a uniform angular distribution of all photons was used to simplify the modeling procedure. The cone beam produced from this sampling procedure is further shaped into a pyramid beam using four collimators. The total exposure is 1350 mAs for kV CBCT, and 6 monitor unit (MU) for MV CBCT.

For kV CBCT, the full-scan model is developed. A total of 675 projections are taken during the x-ray source rotation or gantry rotation of 3648 (270– 274o) for one scan. For MV CBCT, the scan with a total of 200 projections is taken during the gantry rotation of 2008 (270–110o) for one scan. The VIP-Man phantom was used to assess organ doses as well as effective doses.

4.2 Modeling of Diagnostic CT

The multi-detector CT (MDCT) was modeled based on GE LightSpeed 16-MDCT scanner [11]. For validation, CTDI values under different kVp values, as well as dose profiles were used to compare and fine-tune the parameters in the MDCT scanner model (see Fig. 3). Using the validated MDCT scanner modeling, imaging procedures were simulated for chest scan and kidney scan, in combination with a set of pregnant patient phantoms representing 3-, 6- and 9- month gestations. Doses to the pregnant woman's organs and fetal doses were assessed.




Fig. 3. Components of CT scanner. This figure shows one projection of the CT scan procedure. One complete CT scan includes many projections (i.e., 360 projections). In this study it is assumed that the photons are emitted from a point at the location of the x-ray tube anode. Xcomp5r is used to generate the energy spectrum for the emitting photons. Flat filter, bow-tie filter and beam shape are all considered. The CTDI phantom is used to validate the modeled MDCT scanner.



5. Modeling of Medical Accelerator for Radiation Treatment

A detailed representation of a Varian Clinac 2100C (Varian Medical Systems Inc., Palo Alto, CA) accelerator head was developed for Monte Carlo calculations of secondary radiation to the pregnant patient [12]. The primary components such as the target, primary collimator, flattening filter, and jaws, were based on detailed drawings provided by the manufacturer, while additional components of the accelerator head were taken from the combinational geometry input of the same accelerator type published (see Fig. 4). These components are important when considering the leakage and scatter radiation that emanates from the accelerator. Such secondary radiation exposes healthy organs of the patient to a dose level that is low in comparison with the therapeutic dose but high in the context of radiation safety. A review article by Xu and his co-workers has recently discussed the so-called "second cancer" in patients who have undergone radiation treatment [13]. Several AAPM, ICRP and NCRP committees are studying the second cancers, particularly for newer modalities such as the IMRT and proton treatment.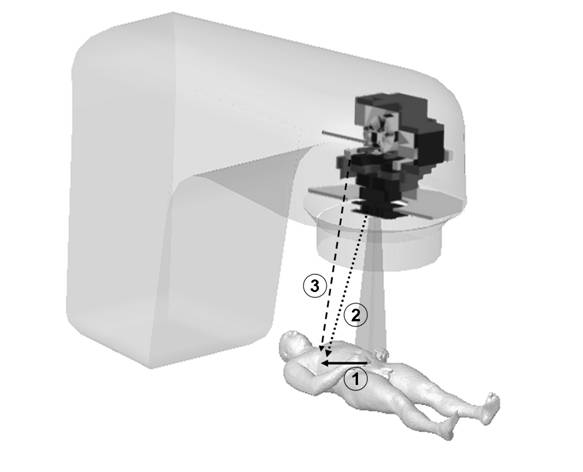 Fig. 4: Sources of secondary radiation from a linear electron accelerator. The solid, dotted, and dashed lines represent (1) patient scatter, (2) collimator scatter, and (3) leakage radiation, respectively.



References for Monte Carlo section

[1]. International Commission on Radiological Protection. Conversion Coefficients for Use in Radiological Protection Against External Radiation. ICRP Publications 74, Annals of ICRP 26(3-4) (Oxford: Pergamon Press), 1997.

[2]. International Commission on Radiation Units and Measurements. Conversion Coefficients for Use in Radiological Protection Against External Radiation. ICRU Report 57 (Bethesda, MD: ICRU Publications), 1998.

[3] Xu X.G., Bushart S., Anderson R. Effective Dose Equivalent for Point Gamma Sources Located 10cm Near The Body. Health Physics, 91(2):108-118, 2006.

[4] National Council on Radiation Protection and Measurements. Biological effects and exposure limits for "hot particles." Bethesda, MD: National Council on Radiation Protection and Measurements; NRCP Report No. 130, 1999.

[5] Shi C. Y. and Xu X. G. Skin Dose Depth Profiles for Monoenergetic Point Gamma Sources. American Nuclear Society Transactions, 90:505-506, 2004.

[6] Xu X. G. The Effective Dose Equivalent and Effective Dose for Hot Particles on the Skin. Health Physics, 89(1):53-70, 2005.

[7] Xu X.G., Su H. and Bushart S. The EPRI EDE Calculator - A Software Package for Assessing Effective Dose Equivalent from Hot Particles on the Skin. Health Physics, 91(40):373-378, 2006.

[8] Durham JS. VARSKIN MOD2 and SADDE MOD2: Computer codes for assessing skin dose from skin contamination. Washington, DC: U.S. Nuclear Regulatory Commission; NUREG/CR-5873; 1992.

[9] Durham JS. Varskin 3. Available at http://www.varskin3. colostate.edu. Accessed April 2004.

[10] Gu J, Bednarz B, Xu XG, Jiang SB. Assessment of Patient Organ Doses and Effective Doses using the VIP-MAN Adult Male Phantom for Selected CONE-BEAM CT Imaging Procedures during Image Guided Radiation Therapy. Radiat. Prot. Dosimetry, 2008,doi:10.1093/rpd/ncn200.

[11] Gu J.W., Taranenko V., Bednarz B., Caracappa P., Xu X.G. A preliminary study to assess dose to pregnant females and fetuses undergoing CT examinations. HPS Summer 2008.

[12] Bednarz B, and Xu X.G. A feasibility study to calculate unshielded fetal doses to pregnant patients in 6-MV photon treatments using Monte Carlo methods and anatomically realistic phantoms. Med. Phys. 35(7): 3054-61,2008.

[13] Xu XG, Bednarz B. Paganetti H. A review of dosimetry studies on external-beam radiation treatment with respect to second cancer induction. Phys. Med. Biol. 53 (2008) R193-R241.

Dose from an External Point Source


The form here is much like our standard equation, with some modifications. Effective doses calculated at 1 m from the point source are used to calculate the dose at other distances, assuming no shielding. For distances less than 0.5 m, the calculation is subject to large errors. For distances less than 0.2 m, the equation should not be used. The equation is:



The product of activity and time (A x t) gives the number of disintegrations (NS), and the source strength (given in the conversion factor, CF) is normalized to a unit amount of area (on the surface of a sphere of radius d surrounding the source). Further details, and our recommended dose factors and some attenuation factors for many radionuclides can be found in the following document: External Point Source

Beta dose to skin

Skin dose is very difficult to measure directly and is usually estimated. The beta dose rate to the skin expressed in terms of average surface concentrations of a radionuclide on the skin gives more reliable estimates for this exposure pathway. However, the data in the literature vary as much as an order of magnitude. The dose calculated here is to the basal layer of the skin (70 micrometers in depth) due to beta rays and electrons. The gamma contribution to the dose rate is generally a few per cent. The contamination is supposed to be uniformly and thinly spread over the skin. The equation is:



where:

HT(skin) = Equivalent dose to the skin [mGy],
Cskin = Average surface concentration of radionuclide on skin or clothing [Bq/cm2],
CFBeta-skin = Conversion factor: skin beta dose rate [(mGy/h)/(Bq/cm2)],
SFBeta-skin = Shielding factor due to clothing; representative values of shielding factors are approximately 3 - 5 for light clothing and 1000 for heavy clothing,
t = Time of exposure [h]

The equation should be calculated for each radionuclide present and the equivalent doses should be summed. Now, the product of concentration and time gives the number of disintegrations per unit area of skin. More information, dose factors and shielding factors can be found in Beta Dose to Skin

Immersion in Air

The direct exposure pathway for gamma-emitting radionuclides released in to the atmosphere will be external g-dose to the whole body from the radioactive material in the plume. Estimates for external exposure to g radiation due to immersion in contaminated air provide conservative estimates for exposure to an overhead plume, due to the factor of distance. The values are derived under the assumption that the plume is correctly approximated by a semi-infinite cloud. The equation is:


where:

Eimmersion = Effective dose from external exposure due to immersion in contaminated air [mSv],
C = Average concentration of radionuclide in air [kBq/m3],
CFimmersion = Conversion factor for radionuclide,
t = Exposure duration [h].

See the document Immersion in Air for conversion factors and example calculations. Also see the page on Internal Exposure for Occupational sources for some similar dose factors given by the IAEA.

Dose from Ground Contamination

The effective dose calculated includes the external dose and committed dose from inhalation (resuspension) resulting from remaining on contaminated ground for the period of concern – 1st month, 2nd month or lifetime (50 years). Once the radionuclide concentrations on the ground are known, the effective dose can be estimated. The equation is:



where:

E = Effective dose from deposition for the period of concern [mSv],
Cground = Average ground concentration of radionuclide [kBq/m2],
CFground = Conversion factor: effective dose per unit deposition for radionuclide (mSv/kBq/m2). Includes external dose and committed effective dose from inhalation due to resuspension resulting from remaining on contaminated ground for the period of concern.

The equation should be calculated for each radionuclide present and the effective doses should be summed. See the document Dose from Ground Contamination for dose factors and more information.